Chocolate Chip Cake Recipe
If you're a chocolate lover like me, than you are going to love this chocolate chip cake recipe. (I'm serious.) It's extremely moist and very rich!


You know, it's funny; when I was little, maybe five or six, there was no question about what dessert would be for birthdays. Just walk down the grocery store aisle and pick out your favorite boxed mix - it was that simple. But then my mom started learning about the benefits of baking from scratch; and then we started eating home-cooked dishes and desserts. This chocolate chip cake recipe was one of the firsts - for a long time it was a standing birthday tradition!
Another birthday tradition was getting to lick the bowl and the beaters....wow was that a privilege back then! :-) I know there's concern about children eating raw eggs, but back then it was just the birthday girl and the batter bowl, no questions asked. I would lick those beaters absolutely dry; half the fun, though, was getting to cook with Mom.
Today I don't need my mom's help anymore to make this chocolate chip cake recipe....but it still holds special memories for me! It's one of those recipes that will definitely be in my cookbook when I have a family of my own someday.
I love whipping it up for a spur-of-the-moment dessert because it's so easy. A "from scratch" cake may sound complicated, but it really isn't! You just need basic ingredients and a bag of chocolate chips....plus a loving family to eat it all up!
CHOCOLATE CHIP CAKE RECIPE
1 stick (1/2 C.) butter
1 3/4 C. sugar
2 eggs
16 oz. applesauce
2 C. flour
3 T. baking cocoa
1 1/2 tsp. baking soda
1/2 tsp. baking soda
1/2 tsp. cinnamon
1/4 tsp. salt
2 C. chocolate chips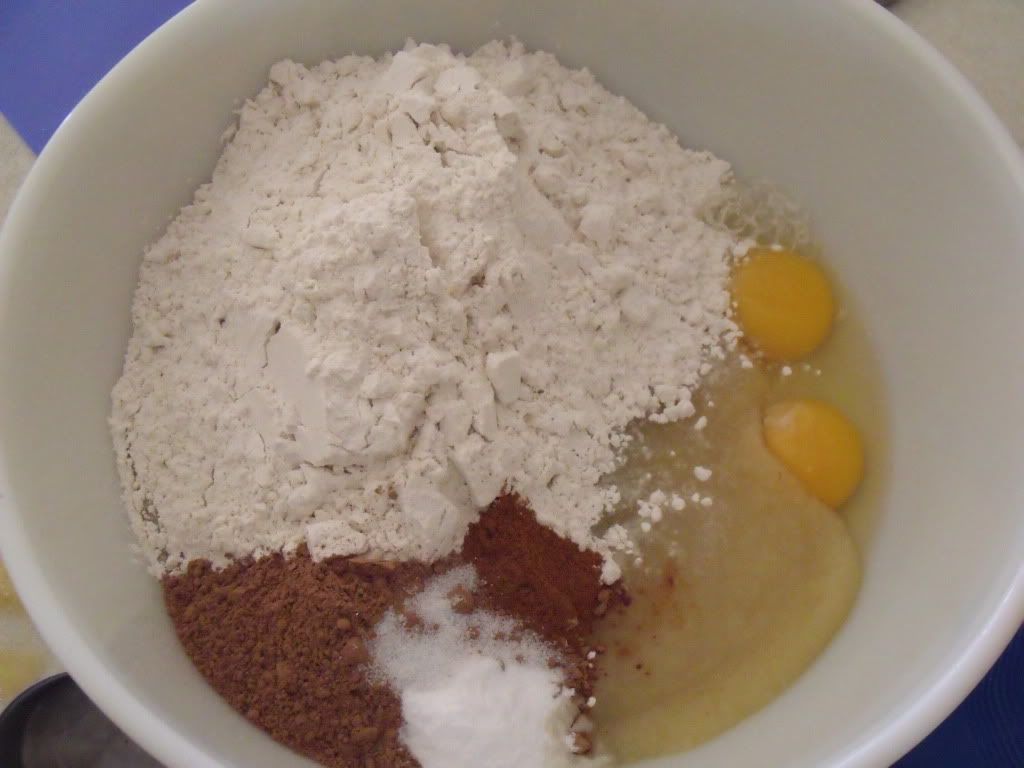 1. Beat together all ingredients, except chocolate chips, until smooth. Once combined, add 1 C. chocolate chips.

2. Pour batter into a greased 9x13 dish.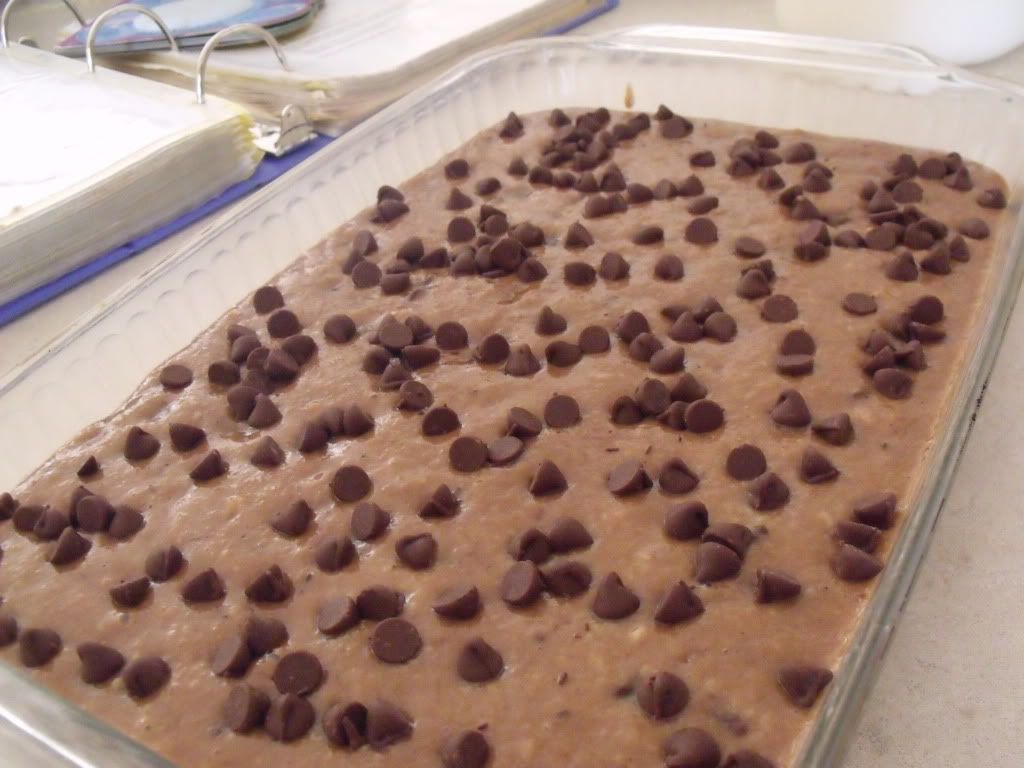 3. In a small bowl, mix:
1 C. chocolate chips
3 T. sugar
1/2 C. chopped nuts
Sprinkle topping over the batter. Bake at 350* for 45 minutes, or until done.

---
The applesauce in this cake is what makes it so fluffy and moist. But with all the chocolate chips you could never tell...Because it's so moist and gooey, it can be a challenge to cut (as you can see in my picture above!) but the best way is to let the cake cool completely and then cut with a greased knife. (I did not do that with this cake....that's why it isn't the prettiest cut!)