Oatmeal Bread Recipe
When I came across this oatmeal bread recipe for the first time, I thought it looked good. But I wasn't prepared for how good it really was!

Since this oatmeal bread recipe calls for honey, it's mildly sweet. It's just a good, wholesome, country type bread that my family loves. The loaf turned out very soft and moist, which I was surprised at because usually you think of oatmeal as being grainy and dense. But nope! This was totally moist! Plus, it was fast and easy to make. (Always a bonus for me!)
Oatmeal Bread Recipe
1 C. boiling water
1 C. old fashioned oats
1 package (1/4 ounce) active dry yeast (2 tsp.)
1/3 C. warm water (110* - 115*)
1/4 C. honey
1 T. butter
1 tsp. salt
3 to 3 1/2 C. flour
additional melted butter
additional oats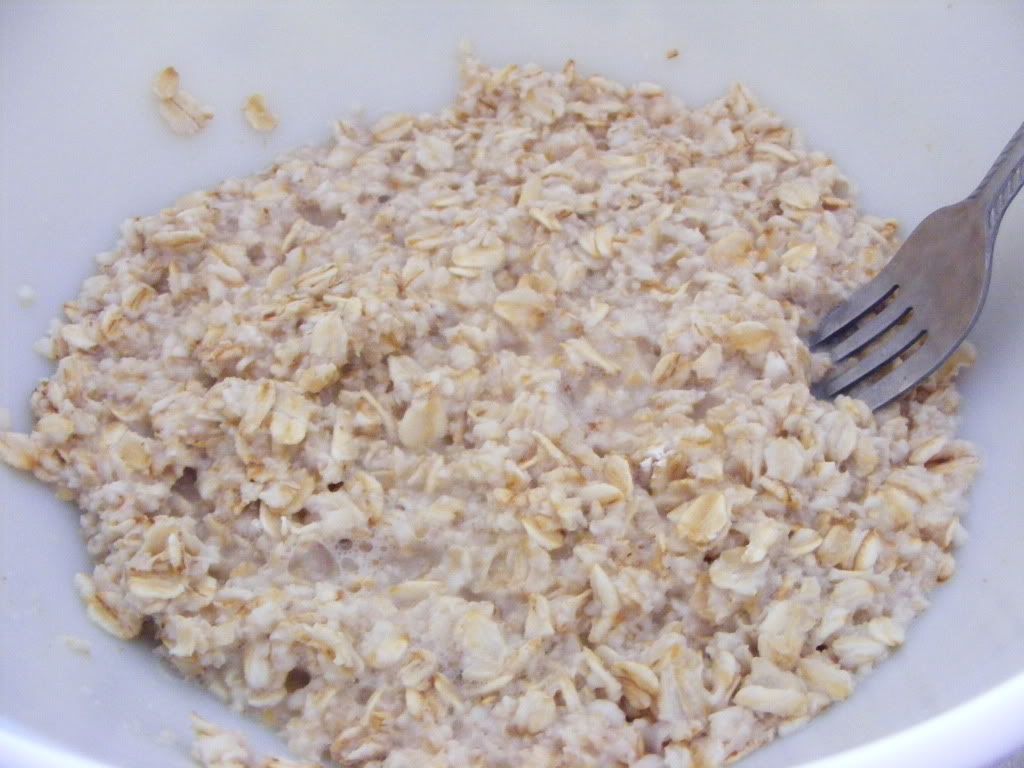 1. In a large bowl, combine the boiling water and oats. You're basically making oatmeal here! Let it cool until is reaches 110* - 115*. I let mine sit until it was cool enough for me to stick my finger in it without burning.





2. In a smaller bowl, dissolve yeast in warm water. Add the yeast to the oatmeal mixture. Add honey, butter and salt.



3. Add 2 cups flour to the mixture. Mix until smooth. Now you're going to dump that dough onto a floured surface and knead it until it's smooth and elastic. Keep adding bits of flour if it's too sticky. Once you're done, your dough shouold be soft and pliable and look like this. Put your dough into a greased bowl. Cover and let rise in a warm place until doubled, about 1 hour.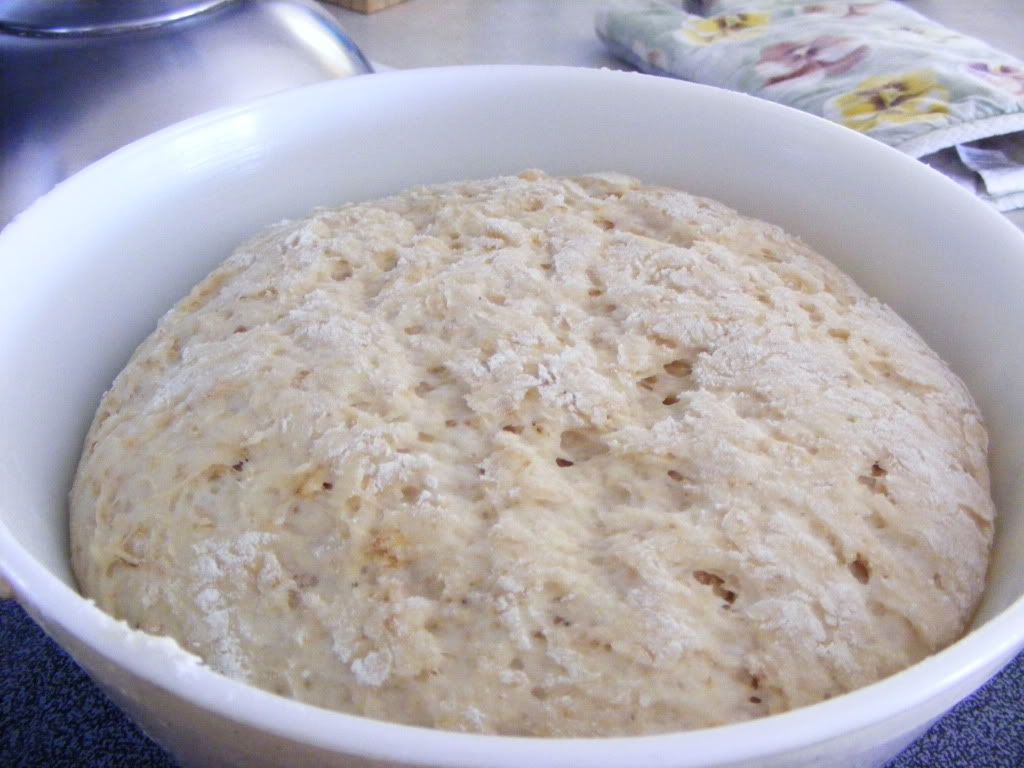 .......Before rising..............................................After rising....
4. Once your bread has risen, punch it down. Knead just a few times if necessary, and then form into a loaf.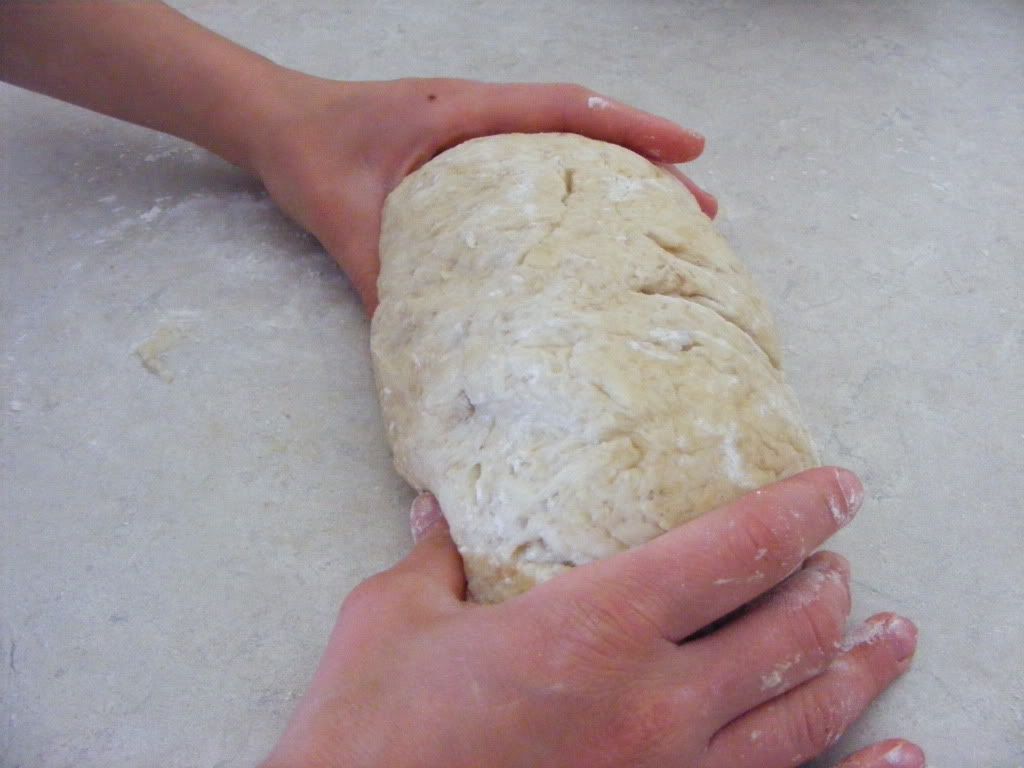 5. Place your loaf into a well greased loaf pan. At this point, take your additional melted butter and brush it over the top of the dough. Then, sprinkle with the extra oats. Not only does this make the oatmeal bread recipe look prettier, but it makes a slightly crunchy crust, too.
Cover and let rise in a warm place until doubled, about 30 minutes.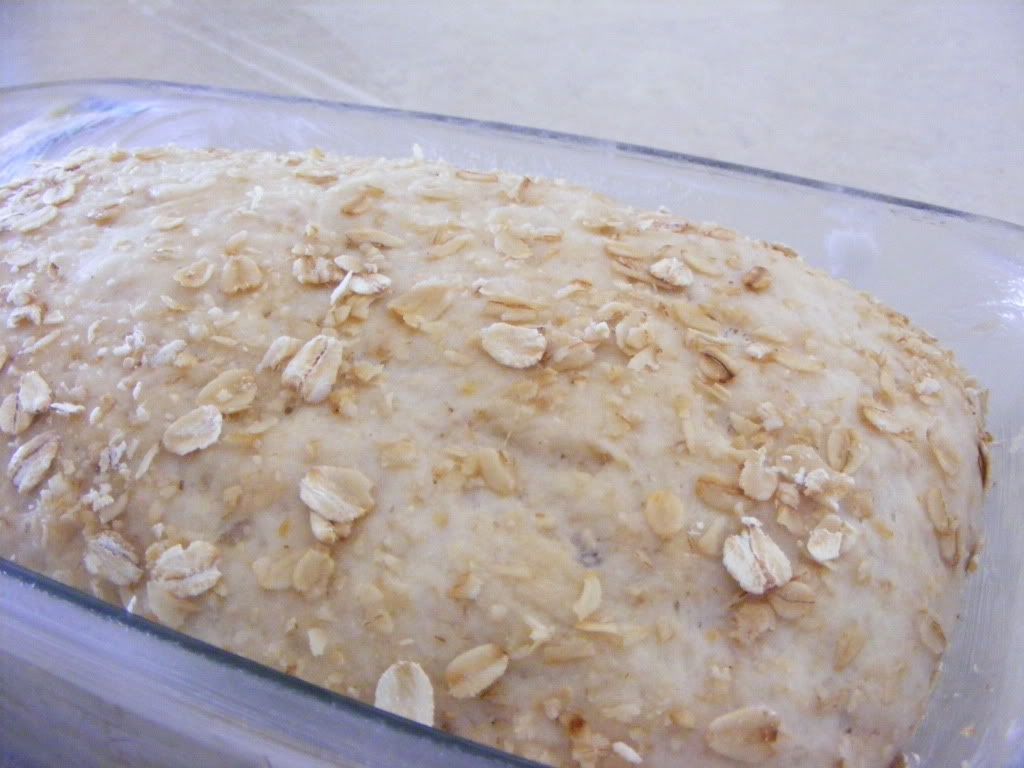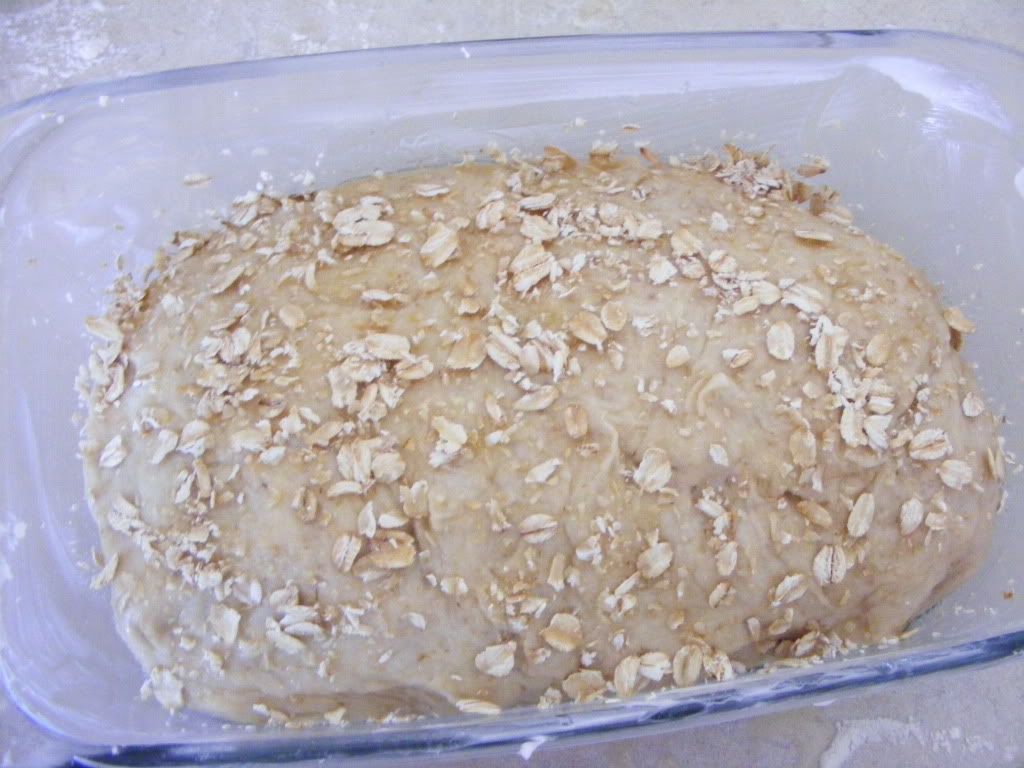 ....Before rising...............................................After rising.........
Now bake at 350* for 50 - 55 minutes or until the bread turns gold brown.
I let my oatmeal bread cool in the pans for about 20 minutes before removing them from the pans. Then I allowed an additional 15 minutes to cool before actually cutting into it.
This oatmeal bread recipe makes GREAT sandwich bread. But truthfully, I liked it best fresh out of the oven with homemade jam on it. :-)
This was a GREAT oatmeal bread recipe!